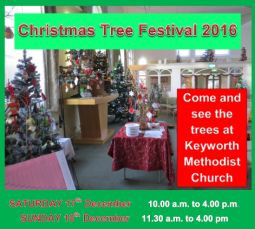 We're offering you the opportunity to come and worship Almighty God this Christmas. To marvel at his gracious love for each one of us. To gain fresh insight into his desire that each of us should know His Kingdom power in our lives, transforming us day by day into the image of Jesus. Our message of love and hope is very old - but we'll be trying to share it with you through songs, stories and silence.
Take this opportunity to come along to the activities in any of our churches in the village this Christmas. You will be most welcome. All we ask is that you make the most of this opportunity to enjoy God's presence - just as the shepherds did on the hillside, as the wise men did when they knelt before the infant, as Mary and Joseph did as their child grew before their eyes.
Join our Christmas Celebration at Keyworth Primary School (Nottingham Road) at 4pm, Sunday 18th December 2016.