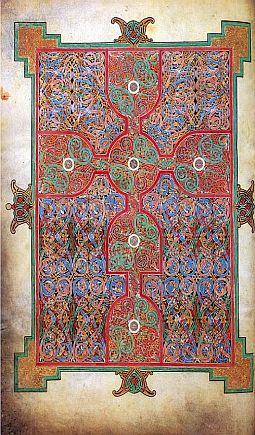 St Aidan established a monastery on Lindisfarne in 635 AD, where the Lindisfarne Gospels were created some years later, and we have just commemorated St Aidan on 31 August 2020.
When we think of this Monk and about the beautiful illuminated pages of this valued scripture which must have been inspired by the surroundings of Lindisfarne, his mind must have been full of adoration for our Creator and all his works. The illustrations, painted with colours that glow like some stained glass windows, show St Aidan's love of birds and animals living around him.
Looking at the complicated designs twisting and interlacing around the page in a forever circular movement makes us contemplate our own lives which are full of twists and turns ... mazes perhaps, not knowing where life is taking us, or what is going to face us around the next corner. There is wonder and beauty in our world but also we can be fearful and puzzled by the things we don't understand, especially at this moment during this pandemic and especially during times of suffering and death.