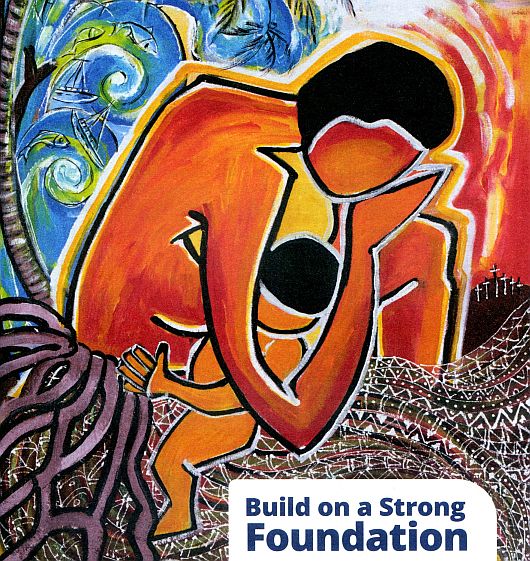 Build on a Strong Foundation
The women of Vanuatu in the South-Western Pacific have written the prayers shared songs for today's service, which is being used by Christians around the world.
Come and join in our prayers and actions for justice and peace
Introduction to artist Juliette Pita
Link to view Recorded service with global contributions
Link to Keyworth service available from 2pm
Vanuatu - Just over 1,100 miles to the east of Australia in the southwestern Pacific Ocean are the scattered islands of Vanuatu. This cluster of islands, stretching for about 400 miles, form a Y shape on the maps and charts. European contact began with the Portuguese explorer Pedro Fernåndez de Quir6s (1606), followed by the French navigator Louis-Antoine de Bougainville (1768) and then Captain James Cook (1774). Cook mapped the island group and named it the New Hebrides. European missionaries, traders and those who wanted to acquire cheap labour (blackbirds) began to come to the islands.
These different groups began to change the way of life, from each island having its own tribal groups and organisation to a government administered in a European style. British missionaries and French planters were the two main European groups involved and by 1887 there was a sharing of administration between France and England. This became more formal in 1906. Vanuatu became independent within the Commonwealth as the Republic of Vanuatu on July 30, 1980, it adopted a new flag and constitution, and elected its first Prime minister Father Walter Lini.
Vanuatu is one of the first countries to start to pray on the Day of Prayer, helping to set off the wave of prayer. The writing committee was formed from all the different denominations and islands and met together to prepare our service about building on a strong foundation. They all understand about the need for safe buildings as the islands are in the South Pacific tropical cyclone zone. Cyclone Pam caused great devastation in 2015 and the islands were just beginning to recover when in April 2020 Cyclone Harold destroyed everything in its path. Even cyclone-adapted coconut trees were broken and battered.
Today we share in the prayers that these confident and purposeful women have written and pray also for the needs of Vanuatu.
Juliette Pita - painted the image above. She is currently the most well-known artist in Vanuatu. She was born in 1964 on Erromango Island and, as there was no school on Erromango, she attended boarding school on another island, Tanna. Her talent was discovered early on, and thanks to a family friend she was able to complete her secondary education on Efate Island, where she lives now. She was the first woman to graduate from the Institut National de Technologie du Vanuatu. In 1994, she had her first exhibition in Paris, and has exhibited in Sydney, New Caledonia and across Europe. Her motifs are taken from both the traditional culture of Vanuatu and her current life. She works part-time as a fabric painter of sarongs and sells these and her paintings to cruise ship tourists in Port Vila. Her three children and her nieces and nephews are also artists, selling paintings to pay their school fees.
Juliette never imagined making money from her art but she believed God had plans for her. She gives all the money she earns to anyone who needs help. The painting is titled Cyclone Pam 11:13th of March, 2015. It was inspired by the artist's own experience during one of the most intense and destructive tropical storms to hit Vanuatu. A mother, wearing the traditional dress of Erromango Island, is bending and praying over her child as the waves crash over her. The palm tree leans protectively over them, its strong roots enabling it to withstand the furious wind. During Cyclone Pam, Juliette Pita and her neighbours took shelter in a container. They spent the night praying and emerged the next day to find everything flattened, apart from one hut built from palm trees. The small crosses on the horizon commemorate those who died. This painting is not only a poignant reminder of the 2015 Cyclone, but also of Cyclone Harold in April 2020, which destroyed buildings and crops on the island of Espiritu Santo. The disaster was made even more devastating as the storm occurred whilst Vanuatu was in a
state of emergency during the Covid-19 pandemic.