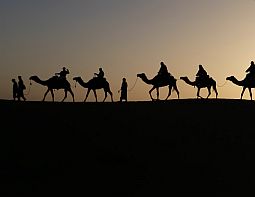 One of the most evocative elements of the nativity story is the visit of the Magi described in Matthew's Gospel. Some people think this episode is an insertion – a purely symbolic event that emphasises Jesus' royal authority. But I think that if God exists, and his Son was born into his own creation, the story of the Magi makes sense.
It was common in Jesus' day for people to believe that special stars heralded the birth of certain individuals. Magi did also sometimes act as diplomats, travelling to meet foreign rulers. It would have been unusual for them to travel so far west in response to a star – but perhaps they would have done so on a very special occasion.
This article is one in a series (Connecting with Culture) from the the London Institute of Contemporary Christianity.

This year's journey to Christmas will not be like any other we have known. The plans we make for getting together will be strange if not strained. They will include apprehension and uncertainty.
On the first Christmas it was the same. God's plans, made before the creation of everything we know and have yet to discover, were coming to their fulfilment. Learned men in the east picked up a new star in the sky – they were intrigued and trekked off after it. The shepherds, about their business on the hills around Bethlehem, were visited by God's messenger and responded by following the instructions they were given. Mary and Joseph had a dodgy start to their lives together, but knew God was in it somehow. They made their way, wondering and pondering.
Nothing went straightforwardly for Mary and Joseph, the shepherds or the men from the east, but in the end, it came together in a humble stable.
They met with Jesus, a meeting that transformed each of their lives. So, in our plans for this Christmas, what a difference it would make to us if we met Jesus, how that would transform our lives, knowing his love and forgiveness. God with us, imagine that, take hold of it. Whether you have known Jesus for decades, or not at all, include meeting Jesus in your journey to Christmas 2020 and see how he will transform your life.